JonathanAndBecky.org > BRM
---
---
My Rover 200BRM

On 14th September 1999, our new car, a limited edition Rover 200BRM was delivered. This car is based on the 200vi, but has significant mechanical and visual improvements:
It has a lowered and uprated suspension, a close-ratio gearbox, uprated brakes, a Torsen traction-control differential and larger wider wheels.
It has also removed the anonymity of the 200vi; the exterior styling attempts to pay homage to the BRM Grand Prix cars from the 1960s. Most obvious is the large, bright orange air intake.
The interior is also unique, with stitched red leather seats, steering wheel and trim, turned aluminium panels and gear-knob and red carpet. On the exterior, the 16in wheels have 205/45ZR tyres, there is a unique mesh grill and silver trim.
It is considered by Rover's engineers to be the definitive and ultimate development of the 200-based car. This may no longer be true if the MG Rover X30 project actually appears.


A few useful links for you: A photo of my car (click for a larger version):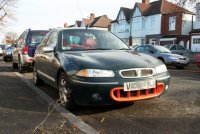 Some of the original publicity photos (click for a larger version):
---
Last updated: 23rd February 2001
Copyright © 1999, 2000, 2001 Jonathan Stevens